Shopping Cart
Your Cart is Empty
There was an error with PayPal
Click here to try again
Thank you for your business!
You should be receiving an order confirmation from Paypal shortly.
Exit Shopping Cart
9 Kingswood Blackrock Rd. Dundalk IE
Performance Coaching for Individuals & Teams
Get YOUR world in focus & design Your future.
| | |
| --- | --- |
| Posted on January 27, 2013 at 8:37 AM | |
A lady who had been full of enthusism and had been progressing really well asked me this question last week -"Why is it not working. I know what I need to do, I'm motivated to achieve my end goal, but I don't seem to be making any progress .... Heeellp!!!!".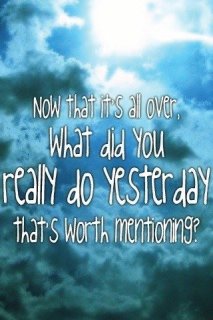 The most important thing here, to correct the situation, was knowing that it wasn't working. This was already progress as previously it would have taken till the end of her plans for her to notice that she was unlikely to achieve her goal. (It's important to note the success even in setbacks). So she felt she waisted 4 weeks, but she also saved the remaing 22 weeks. The Access & Review part of the plan was a success. But what's gone wrong?
MINDFULNESS! This is the art of being in the moment. It's about knowing your Purpose and having that Focus & Awareness when actioning that plan. So lets see how it relates to this situation. We'll look only at this particular issue.

The Goal - "To develop a real on-line presence for the business"
The Plan - "Market Research including, competitors & customers"
 - "Build a Website"
 - "Write a Blog to help drive traffic to the site."
The Issue - "Only a small increase in traffic."
Me: "Who would be impressed by the blog content?" Client: "Anybody in my trade."
M: "Are these likely to buy from you?" C: "No, of course not"
M: "Who should your blog relate to?" C: "Joe Bloggs Customer"
M: "What will Joe Bloggs respond to?" C: "A Sale or Freebee or Trick of the Trade"

M: "How do people know you have written a new blog?" C: "If they search by --------"
M: "How do you hear about websites and blogs?" C: "Social Media or Local Adverts, but I don't know how it works?"
M: "Do you know someone who does?" C: "No?"
M: "Do you know any of the people who's site has been promoted by Social Media?" C: "Yes!"
M: "Whats your next step?" C: "Arrange a coffee and chat to them?"
M: "And then?" C: "Write a Customer Relevent Blog, offer a free prize and get it out on social media. I'm still mad I didn't see this before now."
M: "Yeah ..... or glad?" C: "Glad I didn't waste another 22 weeks lol. Progress & Success! Yeah yeah, i know ..... I do see it."
So Mindfulness is about knowing the purpose for doing something and keeping that to the forefront of your mind. It's about knowing why you are doing something and keeping foucsed and aware to ensure that you are staying -"On-Track".

Categories: Mindfulness
/