Shopping Cart
Your Cart is Empty
There was an error with PayPal
Click here to try again
Thank you for your business!
You should be receiving an order confirmation from Paypal shortly.
Exit Shopping Cart
9 Kingswood Blackrock Rd. Dundalk IE
Performance Coaching for Individuals & Teams
Get YOUR world in focus & design Your future.
This is such BS! All the training and sacrifice just flew out the window with one step that I've done millions of times! The frustration is unbearable. The anger is rage. Why the hell did this happen ?!? Makes no damn sense. Now I'm supposed to come back from this and be the same player Or better at 35?!? How in the world am I supposed to do that?? 
I have NO CLUE. Do I have the consistent will to overcome this thing? Maybe I should break out the rocking chair and reminisce on the career that 
was. Maybe this is how my book 
ends. Maybe Father Time has defeated me...Then again maybe not! It's 3:30am, my foot feels like dead weight, my head is spinning from the pain meds and I'm wide awake. Forgive my Venting but what's the purpose of social media if I won't bring it to you Real No Image?? Feels good to vent, let it out. To feel as if THIS is the WORST thing EVER! Because After ALL the venting, a real perspective sets in. There are far greater issues/challenges in the world then a torn achilles. Stop feeling sorry for yourself, find the silver lining and get to work with the same belief, same drive and same conviction as ever. 
One day, the beginning of a new career journey will commence. Today is NOT that day. 
"If you see me in a fight with a bear, prey for the bear". Ive always loved that quote. Thats "mamba mentality" we don't quit, we don't cower, we don't run. We endure and conquer. 
I know it's a long post but I'm Facebook Venting LOL. Maybe now I can actually get some sleep and be excited for surgery tomorrow. First step of a new challenge. 
Guess I will be Coach Vino the rest of this season. I have faith in my teammates. They will come thru. 
Thank you for all your prayers and support. Much Love Always. 
Mamba Out
Often we can feel that we are in a slump and long for the time when we will be as motivated as "Joe Bloggs". We know we would do as well, or even better, than the people who are currently living the life we desire. The main reason that they have it and we don't, is ......... right place at the right time / lucky break / know somebody / got the opportunity  ...... etc, etc, etc!!!
OK, so maybe some of this played a little part in a few rear cases, but the main difference between them and us is that they were:

1 Motivated to "Go For It". 

2 Believed they would "Achieve".

If you could crack these two things, the future you desire, is within your grasp.
The secret to motivation is to dream. Not just at night either. You should allow yourself to daydream about the future. See your future exactly as you would design it. Know it in detail. Know how it would look, what you would hear, how you would feel etc. Once you allow yourself to MENTALLY LIVE the experience, it will boost your motivation to make it happen. This has to be the starting point.

Once you have "Created the Motivation" you will need to put in place a plan. Once it's a believable plan, you will keep going until it's achieved or ...... you no longer believe it is achievable. You then have 2 choices, make a new believable plan or change your planned destination  ;-)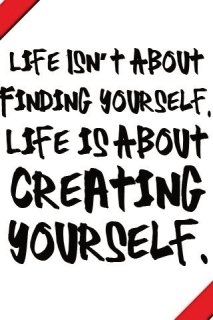 Sometimes people can find themselves wondering whats round the corner. What will life bring and how will they handle it? These people are sitting in the passenger seat of life and learn to make adaptions to bend with the wind of change.







Others take a look at their future and consider where they would like it to go. What do they want and how will they go about getting it? These people access what they have now, how will they get to where they want to go and set checkpoints along the way. These people are sitting in the driver's seat of life and make the neccessary alterations to get to a place they want to be.




The key ingrediant is ACTION!!!!


0

/